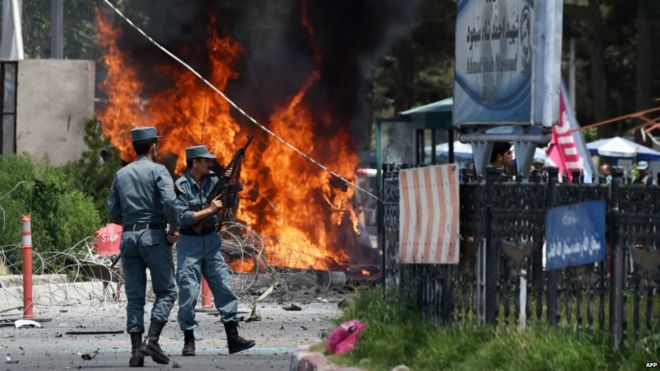 Police in Afghanistan's capital say a suicide bomber has attacked a checkpoint near the entrance to Kabul's international airport.
A health ministry spokesman said seven civilians were injured in the blast, which happened shortly after midday local time (07:30 GMT).
Security officials at the scene said the attack appeared to target a convoy of armoured cars.
Kabul police chief Sayed Gul Agha Rouhani told reporters that a suicide bomber had driven a vehicle into the first checkpoint on the road into the airport.
Images showed a large plume of smoke rising from the site of the blast and locals reported seeing ambulances approaching the scene.
It is unclear who is behind the bombing, but the Taliban said it carried out one of three deadly attacks on Friday that killed at least 50 people.
A Taliban suicide bomber blew himself up near the city's police academy on Friday evening, killing about 20 recruits.
A short while later, gunmen launched an attack on Camp Integrity, a Nato base that houses US special forces near the airport.
Eleven people, including a Nato soldier and eight contractors, were killed in the attack on the base.
Earlier on Friday, a truck carrying explosives was detonated near an army base in the Shah Shahid area of the capital, claiming 15 lives.